Underlay
The underlay for your carpet is the most important thing in adding that extra underfoot comfort. Importantly, a good underlay can help prolong the serviceable lifetime of your carpet. Underlay also adds warmth to any room in your house, reducing draft from gappy floorboards. A good underlay will also add noise/acoustic insulation to your home, preventing airborne noise from travelling. There are many different types of underlay, depending on the flooring being installed, such as carpet, laminate or wood flooring, or even LVT (luxury vinyl tiles). Underlay's also vary on their intended purpose, and the amount of traffic the floor is likely to receive.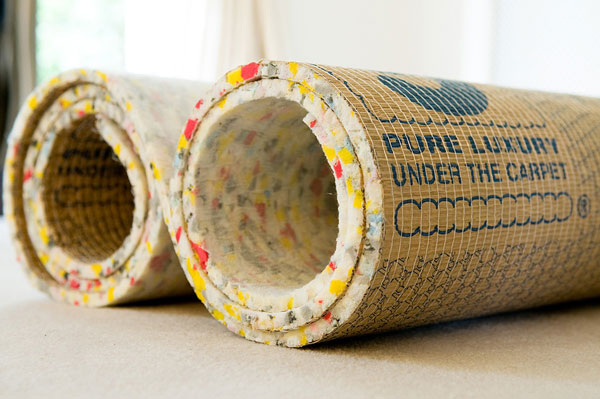 At Carpets And More, we stock a huge quantity of quality carpet underlay, laminate flooring underlay, wood flooring underlay and lvt underlay, from major brands such as Ball & Young, QA Products, Luvanto and many more.
Laminate/wood underlay
Laminate/wood flooring underlay is very important in order to separate you flooring from the subfloor, protecting your wood/laminate flooring from any imperfections in the floor, increasing sound and thermal insulation, as well as ensuring the joints do not get damaged with too much movement. A fantastic range of laminate flooring/wood flooring underlay we do at Carpets And More is the 5.5mm fibreboard underlay, which is a quality wood/laminate underlay that will ensure a fantastic floor for you to lay your wood/laminate flooring on.
Carpet underlay
Carpet underlays come in many different forms, thicknesses and densities. PU carpet underlays have quickly become more popular and cost effective than more traditional rubber underlay, providing just as much underfoot comfort for your carpet, at a much more affordable price, as well as being very light weight and easy to install.
With hugely popular and successful ranges such as Cloud 9 by Ball and Young, or the superb Tredaire carpet underlay, as well as our very own Diamond luxury carpet underlay collection, PU underlays have excelled in providing underfoot comfort for your carpet, as well as thermal and acoustic insulation.
A quality carpet underlay will also be guaranteed for the serviceable lifetime of the initial carpet installation, adding further piece of mind.
If you have any question as to which underlay is most suitable for your carpet, laminate or wood floor - don't hesitate to contact our team of experts who would be happy to help. You can also order free samples to help you choose the right underlay for your flooring.